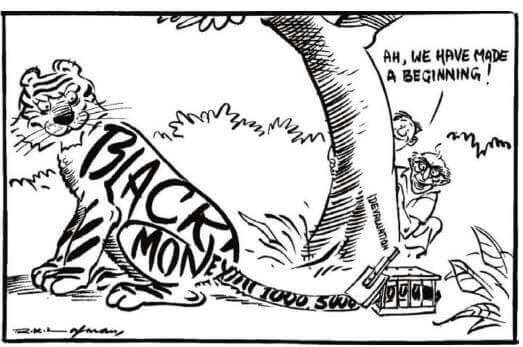 By Amit Varma – Mao's infamous Great Leap Forward included plenty of edicts besides the death warrant to sparrows. They all stemmed from the delusion that the leader of a country could redesign an entire society to conform to a master plan. The 20th century is full of cautionary tales that warn against such delusion, such as the communism of Mao and Stalin, and the fascism of Hitler. Yet, we do not learn.
Narendra Modi's demonetization of old 1000 and 500 rupee notes is one such folly, a blunder in every imaginable way. It doesn't achieve its intended purpose. And its unintended consequences could devastate the lives of the poor, and cripple our economy.
Modi claims that this move is an attack against black money and corruption. This is not true, and here are four reasons why. One, as per a recent estimate, only 6% of black money is kept in the form of cash. Two, new 2000 and 500 rupee notes are on the way, and a black market for conversion from old to new is already thriving. Three, as various economists have pointed out, this attacks the stock and not the flow of black money. To strike at black money and corruption, you need to strike at their root causes.
Corruption and black money are a consequence of big government, of one set of individuals having discretionary powers over the actions of others. more> https://goo.gl/DxLvlx
Similar Posts: