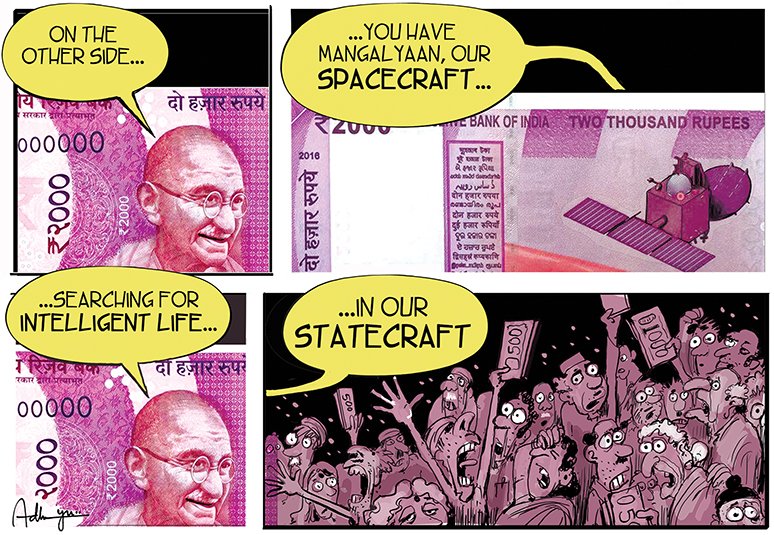 By Amit Varma – I am a great admirer of Mahatma Gandhi, but the man had some strange views.
"Hospitals are institutions for propagating sin," he wrote. "To study European medicine is to deepen our slavery." He railed against the railways, saying "it is beyond dispute that they propagate evil." He argued against lawyers, despite being one himself, saying they had "impoverished the country."
But here's a thing to note: despite these personal views, he never once suggested that railways, hospitals and lawyers should be banned.
There is a notion being spread these days that is as absurd as the ideas above: it is the notion that there is something wrong with using cash, and that we should head towards being a cashless society. This is nonsense. A cashless society would be a disaster for India. Here's why.
One, a fully cashless society would mean the end of privacy. India has no privacy laws, and data protection is also a big worry — every week we hear stories of some big hacking or the other.
Two, a fully cashless society could mean the end of dissent. They could make any opponent a pauper with one keystroke, freezing your bank account while they investigate alleged misdeeds.
Three, a fully cashless society endangers freedom. Cash is empowerment. In a misogynist country like India, cashlessness would hit women the hardest.
It is a myth that an advanced society must necessarily be cashless. In Germany, a country which knows the perils of authoritarianism, more than 80% of transactions are in cash, as citizens safeguard their privacy and freedom.
Even in the US, 45% of transactions are in cash. Note that Germany and the US actually have the banking and technological infrastructure to enable cashlessness. In India, 600 million people have no bank account, and less than 20% of all Indians have a smartphone. Internet penetration is iffy, as is power. (By 'power', I mean electricity, not the government's control over you.)
Trying to make India cashless is akin to putting a bullock cart in an F1 race, and whipping the driver because he's too slow. more> https://goo.gl/jKGruY
Similar Posts: