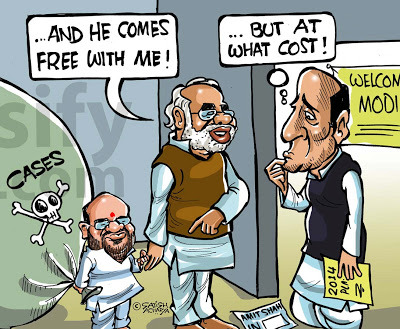 By Pankaj Butalia – What neither the Prime Minister nor Rajiv Mehrishi will acknowledge is that hatred in human beings needs only a small trigger to turn violent — and the most effective violence is often self-righteous. So all the provocateur needs to do is provide a platform — it could be the train in 2002 or the cow in 2014. Once set in motion the instigator can easily disown his role in the affair.
A casual look at the emergence of new leaders of Bharatiya Janata Party over the past three decades reveals that violence has been the most effective stepping stone for many of them. There seems to be a pattern here whereby violence against disadvantaged groups, normally minorities, helps bring the individual to the notice of the party.
Once the goal is achieved, overt violence is renounced by the individual and we start to see the individual as a 'normal politician'. The violence doesn't end, however. It just gets outsourced to those lower in the hierarchy.
In 2002 this mantle of leadership through violence was taken up by the broad-shouldered Narendra Modi. By then he was a state chief minister and answerable to no one. He didn't seem to have national ambitions and didn't really care what the world thought of him as long as his core, aggressively Hindu-centric community didn't desert him.
This changed once large corporate houses decided to back him as a 'development man' in 2011-12. Today, Modi is a statesman, above violence, and a man with a vision for the country. His image has a makeover. All violence is normalized. more> https://goo.gl/2Yv48h
Similar Posts: