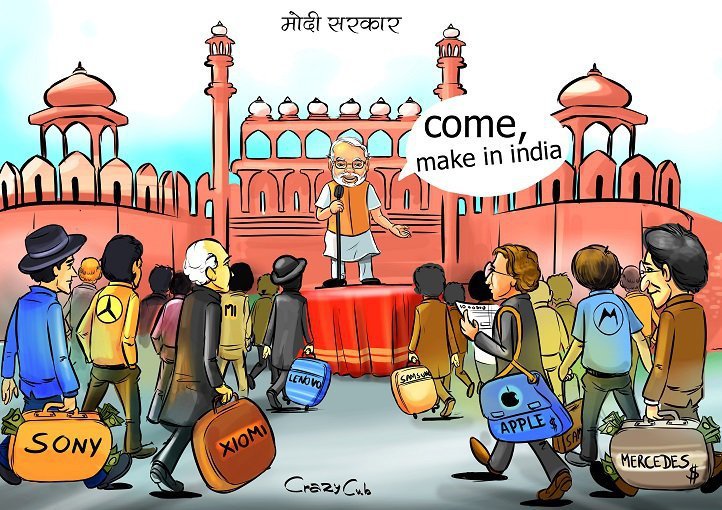 By Abheek Barman – Flashback to September 2014, when PM Narendra Modi unveiled a scheme called, 'Make in India' (MII), with a gear-and-cogs lion logo. Three years later MII has, literally, gone off the rails. By October next year, work was supposed to start on the largest MII project: a $2.5 billion venture by America's GE to make diesel-electric locomotives in Marhaura, in Chhapra, Bihar.
But two weeks ago, New Delhi switched off the Bihar project, saying electric trains were the future. Chief minister Nitish Kumar, who gambled his political future by breaking with a Congress-Lalu Yadav coalition to ally with BJP recently, isn't amused. He says it'll take ages to electrify India's 1,10,000 km of tracks. As a two-time rail mantri and Bihari, Nitish should know.
Against government claims that 96% of Bihar villages are electrified, a 2015 survey found only 8% of households get electricity for 20 hours a day. A staggering 80% of homes don't use electricity for lighting, but get by with kerosene lamps. An incensed GE wants India to pay it Rs 1,300 crore ($200m) in compensation. Such irony: our loss-making, cash-poor railways will now pay to cancel MII investments. What is New Delhi smoking?
New Delhi thinks electric trains will save India the cost of diesel. Is electricity made out of thin air? A study in the mid-2000s argued that it makes no sense to run heavy freight trains, moving under 100km per hour, with electricity.
For the near-30,000 young people trying, but failing to get jobs every day, Make in India is a joke in poor taste. more> https://goo.gl/rS7R1N
Similar Posts: