Biometric authentication is based on the unscientific and questionable assumption that there are parts of human body that do not age, wither and decay with the passage of time.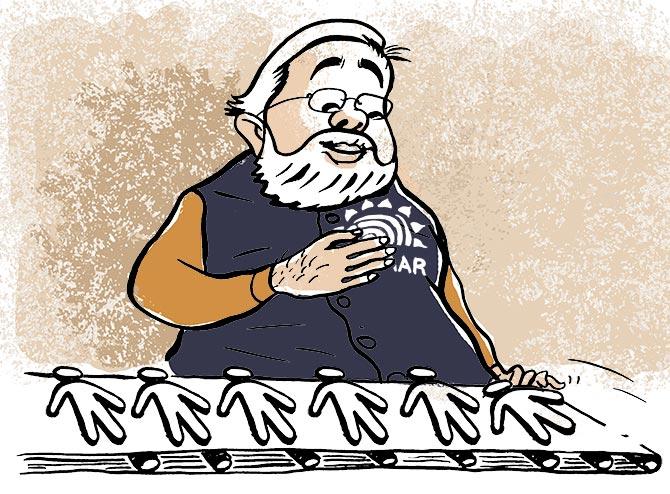 By Gopal Krishna – The reason for the vehement opposition to biometric (Aadhhar)-based Central Identities Data Repository project is that it is contrary to the basic structure of the Constitution, which does not provide for an unlimited government.
The project is aimed at creating an unlimited government. Even after an unjust law has been passed to make it legal, it remains bad and illegitimate.
A Unique Identification Authority of India's paper titled 'Role of Biometric Technology in Aadhaar Authentication' — based on studies carried out by the UIDAI from January 2011 to January 2012 on Aadhaar biometric authentication — says, "Authentication answers the question 'are you who you say you are'."
The UIDAI paper states, 'Of the three modes, fingerprint biometric happens to be the most mature biometric technology in terms of usage, extraction/matching algorithms, standardisation as well as availability of various types of fingerprint capture devices.
'Iris authentication is a fast emerging technology which can further improve Aadhaar authentication accuracy and be more inclusive.'
Such absolute faith in biometric technology is based on a misplaced assumption that parts of human body do not change with age or decay with the passage of time.
Basic research on whether or not unique biological characteristics of human beings are reliable under all circumstances of life is largely conspicuous by its absence in India, even elsewhere.
There is a need for Parliament, the Supreme Court, state legislatures and the high courts to examine whether or not biometrics provides an established way of fixing the identity of Indians.
In an RTI reply dated December 5, 2013, UIDAI shared the contract agreement it signed on behalf of the President of India acting through Director General of UIDAI, Government of India, with the consortium consisting of M/s Ernst & Young Private Limited and M/s Netmagic Solutions Pvt Ltd wherein 'M/s Ernst & young pvt ltd' is the lead partner and consultant.
The agreement has pages numbered only till 26. The rest of the pages — which are appendices including various information — are not numbered.
A report 'Biometrics: The Difference Engine: Dubious security' published by The Economist in its October 1, 2010, issue observed, 'Biometric identification can even invite violence. A motorist in Germany had a finger chopped off by thieves seeking to steal his exotic car, which used a fingerprint reader instead of a conventional door lock.'
Notwithstanding similar unforeseen consequences, the prime minister's faith in biometrics remains unshaken.
Most startling disclosure from the contract agreement is its admission that 'biometric systems are not 100 per cent accurate'.
It admits that 'uniqueness of the biometrics is still a postulate'.
In an admission that pulverizes the very edifice on which Aadhaar rests, it writes, 'The loss in information due to limitations of the capture setup or physical conditions of the body, and due (to) the feature representation, there is a non-zero probability that two finger prints or iris prints coming from different individuals can be called a match.' more>
Similar Posts: